1 Introduction
CWB510000 series temperature transmitters use semiconductor temperature sensors, platinum resistances, etc. as temperature sensitive components, and output standard industrial signals after temperature compensation, digital circuit correction and signal conditioning. Each type of product has undergone careful design, component screening, process verification and curing, cyclic loading and aging, environmental simulation testing and other processes to ensure that each product is stable and reliable.
2 Features
◆compact size, easy to install
◆high stability, low drift
◆a variety of structures to choose from
◆it can be used in various industrial occasions and has strong versatility
3 Main uses
With its excellent accuracy and reliability, CW series temperature transmitters are used for temperature measurement in many occasions. Especially in railway locomotives, coal mines, oil fields, chemicals, civil explosions and other industries, accuracy and reliability have been verified for a long time.
4 Technical indicators
range(℃)

-60~450( optional range )

accuracy (℃)

0.25

(customized)

0.5

1.0

long-term stability (%FS/year)

≤0.25

≤0.5

≤1.0

operating voltage (VDC)

+15~+30( calibration value is +24)

output signal

(4mA~20mA)、0~10V、RS485、I2C

working environment temperature (with header )(℃)

-30~+60

load resistance (Ω)

(4mA~20mA)

R=(U-15)/0.02-RD

among them: U is the power supply voltage

RD is the internal resistance of the cable

response time (10%~90%)s

20( typical value )

measuring medium

fluid compatible with 304 and 316L

shell material

304、316L

interface

304, 316L optional

protection level

IP65
5 Transmitter size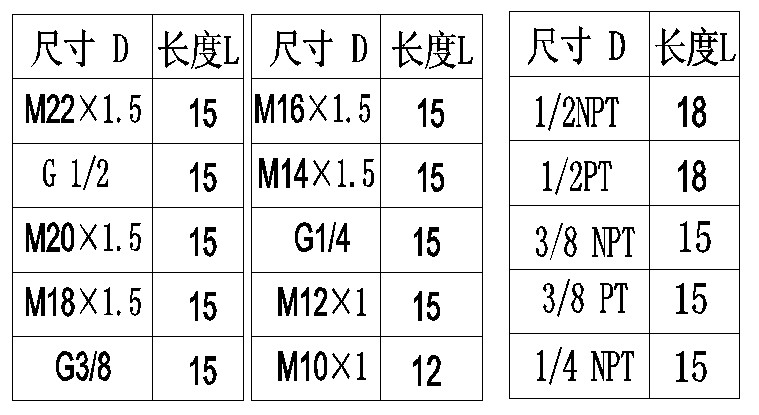 Recommended optional connector size for CW series transmitter
6 Electrical connection
6.1 Housman socket

6.2 Aviation socket

6.3 Direct cable outlet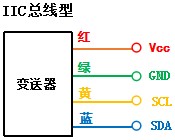 6.4 Industrial terminal

7 Order guide
7.1 Model characteristics and appearance
CWB510000 series

CWB510201

1、Equipped with BP11A/C shell;

2、Without heat sink;

3、-50℃~150℃.

CWB510402

1、Equipped with BP11A/C shell;

2、Without heat sink;

3、200℃≤ X ≤400℃.

CWB510224

1、Zigbee/Lora wireless communication protocol;

2、LED, LCD display optional;

3、Networking for users.

CWB510225

1、Stainless steel housing;

2、Without heat sink;

3、-50℃~500℃(Optional).
7.2 Selection Guide
Order model
CYB51X1X2X3X4

temperature transmitter

range(℃)

-60~450( optional range )

code name

supply voltage

U1

24VDC

U2

12VDC

U3

other power supply methods

code name

output signal

E1

4mA~20mADC

V3

0VDC~10VDC

V5

other power supply methods

R4

RS485 communication Interface

H

HART® protocol communication

Ⅱ

I2C protocol communication

code name

shape interface

electrical Interface

mechanical interface

Horsman socket (J1)

G¼

Aviation socket (J2)

G½

others(J5)

others ( direct label )

code name

additional features

M1

4-digit LCD digital display header

M2

4-digit LED digital display header

i

intrinsically safe explosion-proof type ExiaⅡCT6

QT

other functions
8 Precautions
8.1 Please pay attention to the compatibility of the tested medium and the shell when selecting the model. If you are not sure, please refer to the medium compatibility table on the back cover of the manual or consult our company.
8.2 Please indicate the appropriate temperature range and accuracy requirements when ordering.
8.3 When ordering a transmitter product with a meter, the power supply of the transmitter should not be less than 15VDC.
8.4 When selecting digital display products, the working environment temperature range of the display head is -30℃~60℃.
8.5 Sealing measures are taken at the interface connection to prevent leakage of pressurized liquid and cause pollution or accidents.
8.6 When using in a dangerous environment such as flammable and explosive, please install a safety isolation barrier as required, and the cable connection must be sealed and reliable. Tighten the junction box cover before energizing work to ensure that the inner cavity of the junction box is isolated from the environment. When cleaning, repairing or modifying parameters, you must completely power off, remove the transmitter, and move to a safe environment for disposal. Live operation on site is strictly prohibited.